WINE DESCRIPTION
Nicolás Catena Zapata is made from a meticulous vine selection in the best lots of the Catena family's estate vineyards. These Zapata vines are carefully hand tended and produce extremely low yields. The grapes are micro-fermented in new French oak barriques and the wine is then aged for 24 months in new French oak.
TASTING NOTES
Saturated dark violet color; thick aromas of black cherry, dark chocolate and licorice, enlivened by minerals, violet, pepper and herbs. Then penetrating, sharply delineated and impressively concentrated, with a serious backbone, supporting its very fresh currant and mineral flavors. The vibrant finish suggests that this wine will have even more to say in five or six years.
VINEYARD
La Pirámide Vineyard 3,117 ft (950 m). Agrelo District, Luján de Cuyo Region, Mendoza, Argentina. Deep alluvial loam with 30% clay that decreases soil temperature by 35,6ºF (2ºC) in average. Cabernet Sauvignon.
Domingo Vineyard: 3,675 ft (1,120 m). Villa Bastías District, Tupungato Region, Uco Valley, Mendoza, Argentina. Surface is completely covered with gravel. Alluvial topsoil is loamy with limestone deposits at 11,8 inches (30cm). Cabernet Sauvignon.
Adrianna Vineyard: 4,757 ft (1,450 m). Gualtallary District, Tupungato Region, Uco Valley, Mendoza, Argentina. Alluvial, gravelly with limestone deposits in the topsoil. Malbec.
Nicasia Vineyard: 3,593 ft (1,095 m). Altamira in La Consulta District, Uco Valley, Mendoza, Argentina. Very shallow loamy topsoil with surface gravel and gravelly (large stones) dry river bed subsoil - optimal drainage. Malbec.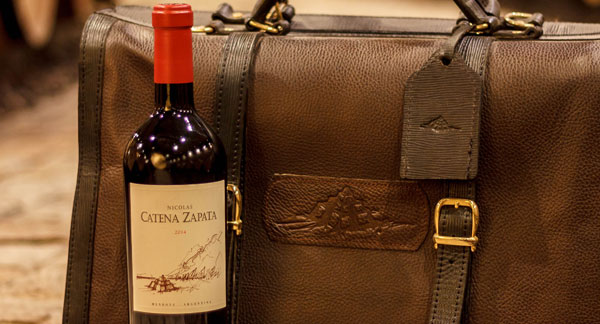 VINIFICATION
De-stemmed, whole berry fruit is hand loaded into 225 liter new French oak barrels; 50% barrel fermented and 50% bin fermented; low fermentation temperatures extract intense aromas; all cap management done by hand for soft, gentle flavor and tannin extraction; alcoholic and malolactic fermentation in barrel leaves considerable lees and sediment. Fermentation: In vertical 225 liter open barrels and small 500 liter tanks with manual punch-downs. Aging: 24 months in 100% new French oak.
TECHNICAL INFORMATION
Varietal: 65% Cabernet Sauvignon, 35% Malbec
Alcohol: 14 %
Total Acidity: 5.8 grams/liter
pH: 3.72