Laura Catena: "Argentina is the paradise of wine"
La Nación – December 30, 2018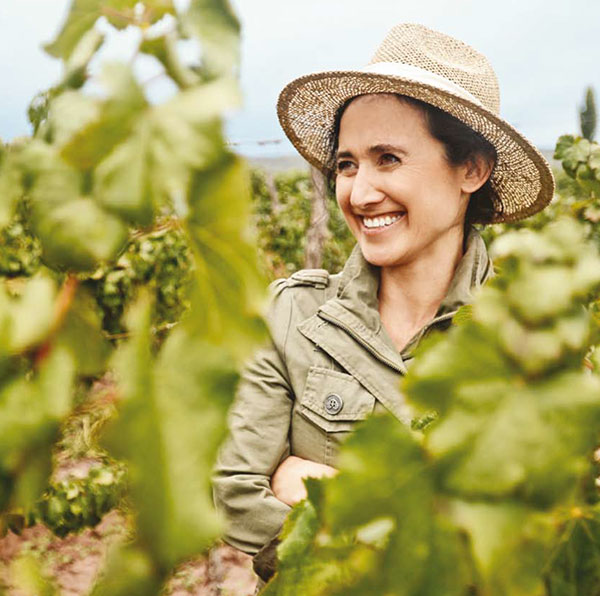 She is a unique businesswoman: she is one of the heiresses of the most important winery in the country and combines her passion for Mendoza vineyards with her work as a pediatrician in California.
Light years away from the image of a millionaire who spends her money lavishly, Laura Catena says goodbye to her three children and her husband four or six times a month and gets into her car to work in the pediatric emergency room of the California Pacific Medical Center of San Francisco, California, where she lives. The heiress of the Catena group, the most important winery in Argentina, takes her double life between Argentina and the United States as an everyday thing. In Mendoza she supervises the elaboration of some of the most perfect (and expensive) wines in Argentina, while in San Francisco she carries on her activities as Bachelor in Biology from Harvard and a Medical Doctor from Stanford. In the meantime, she makes time to enjoy her kids and from California she talks with La Nación magazine sitting in her car at the parking lot of her fourteen-year-old daughter's school, who is attending an extracurricular activity. "This is the way I live: filling up the gaps in my diary to make all the pending calls. My life is WhatsApp," she explains.
The timeworn idea of living on a plane is somewhat true in the particular case of Laura Catena, although not only for business reasons. Since she was a little girl, the middle daughter of Nicolás Catena Zapata, the man credited with putting Argentina on the world´s wine map, got a taste for travelling. "When I was a teenager I started travelling with exchange programs to France and I remember I spent summers on a farm living with a French family, where I learned how to cook, from foie gras to tarte tatin.
When I grew older I travelled a lot around Africa. I worked in a hospital in Senegal and also taught in a school in Kenya. And now I am preparing a trip with my whole family to Italy. We are going to settle for three months in Venice", explains from the United States while still enjoying the repercussions of her latest achievement: for the first time in history two Argentine wines – the 2016 Adrianna Vineyard River Stones Malbec and the 2013 Gran Enemigo Gualtallary Single Vineyard Cabernet Franc, both from their Adrianna vineyard – in Gualtallary, Mendoza – obtained a 100 points from Robert Parker, the world's most influential wine critic.
Did your family encourage you to travel since you were a child?
In some way, my family has a gypsy soul. Travelling always opens your mind and although my parents were scared of my travelling alone, they were always very open, not only about trips. When I lived in Buenos Aires, the typical thing for a girl like me was that I had gone to an English school, but I wanted to go to the "Nacional de Buenos Aires" and they allowed me to do so. I studied only two years there because some time later we moved to the United States, but I have a very good memory of my time in the Argentine public school. I had a great French teacher, who made me fall in love with the French language, culture and literature. And later when I moved to the United States, I remember that at school they were amazed at the education I brought from Argentina.
But weren't they afraid of your travelling that much?
They were scared to death. Imagine that I travelled for the first time without my family to France at the age of 14, with two friends, at a time when there were no cell phones or internet, and everything was really far away. But since I was a little girl, at home, my parents did foster critical thinking, discussions, a true open mindedness. Also, my dad never underestimated kids. He did it with his children and now he does the same with his grandchildren. He used to listen and speak to you with serious attention, as if he were speaking with an adult. And that is great, although later you may get into bad habits. They listened to me so much since I was a girl that sometimes it's hard for me to stop talking and listen to others a little bit more.
You travelled a lot to France since you were very young. Did you already feel a special fascination with French wines?
At home, since I was a little girl, when we sat at the table to have a meal, the drink for children was sparkling water with a drop of wine, but I only started to get interested in wine in the 80's, when I was at college in the United States. At that time, it was a kind of hobby for me and I always remember that my dad forced me to have some Riedel glasses in my dorm room at Stanford for his visits. I had an extension of his credit card with which I bought excellent wines from Vega Sicilia or French Grand Crus to taste with my dad while we ate some pizza.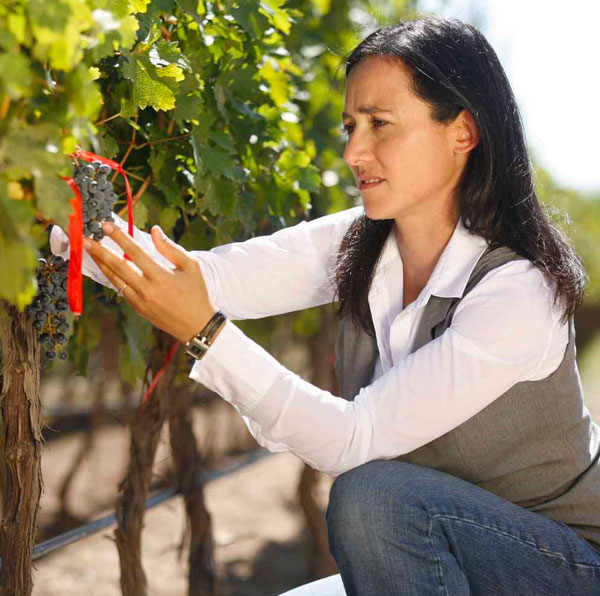 When Laura joined the winery, somebody told her to go and work in the marketing area. "But then I found out there is a lot to learn on sales", she says.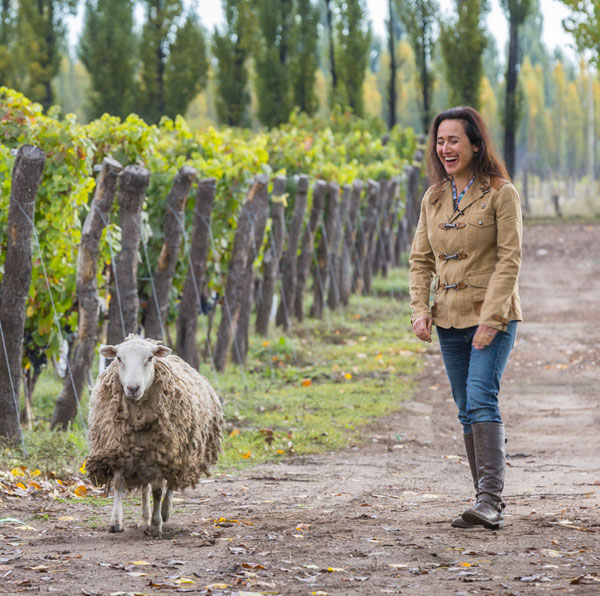 With the Adrianna vineyard, in the Tupungato Alto area, we are focusing on producing a "Grand Vin" - unique, unforgettable wines.
I guess it has not been easy to grow up with such a strong figure as your father's.
No at all. My dad is a true Renaissance man. He is an economist, but he knows about history, science, mathematics. Even now he spends a few hours every day studying a certain topic. Now he is deeply involved in mathematical economics. But at the same time he is very open to the exchange of ideas and we have never had a big argument. In my family we have all inherited that spirit. My mom is an avid reader, my sister Adrianna is a Harvard historian and my brother studied design and computing. We are always reading something at home.
And what are you reading now?
Now I'm reading Steven Pinker's Enlightenment Now - I love him. Basically, what Pinker says is that beyond the problems facing our world, we live in a fascinating age. That we are going through the best age of humanity. Also, I am always reading several things at the same time. I´m rereading Niebla, by Miguel de Unamuno, I still think it's a fascinating book. It was written a hundred years ago, but I think it's highly topical. Unamuno writes as if he were a millennial. And I'm also hooked on a series called Earth's Children by Jean Marie Auel. The novel tells how life would be for a girl in the Flintstones age. It's a very funny best seller, with lots of adventure and lots of sex.
How do you combine the life of a doctor and a that of a wine producer?
I spend my time living between California and Mendoza and WhatsApp is key. As a doctor, I recently left a job as a teacher in a hospital and now I only work between four to six days per month in the pediatric emergency department at Pacific Medical Center.
"My theory is that the only way to make a good wine is that you like wine very much".
You are a millionaire, so why do you work in an emergency room?
There are lots of research proving that once a person's basic needs are satisfied –food, clothing and housing– happiness depends on other things and not money. I'm not going to underestimate how good it is to have money to fulfill your fantasies, to have the possibility of travelling, to have certain privileges, but I also have a clear idea that life does not just happen there. Also, when you are a doctor, you sense the fragility of life, that you can die at any time, because you see it every day. Someone went running and arrives dead to hospital because of a heart attack. Or a person is perfectly all right and then is diagnosed with a cancer. On the other hand, the work of a doctor brings you immediate gratification. In a vineyard you have to wait three years to make a wine, from planting the vines to the wine in the bottle. As a doctor, instead, everything is more immediate. In a pediatric emergency room, you also have the advantage that most of the cases you treat are not serious. When a parent arrives at the hospital, very worried with a child with fever, and you take care of the child and the child recovers, the parent will look at you like he adores you like no one else. Besides, after more than twenty years of practice, I think I' m a good doctor and I believe that my duty is to give back to people all the knowledge I have received.
Doesn't your family complain for the time you spend in the hospital?
My husband is also a doctor, so he understands. Sometimes, when I have to travel a lot, the kids complain a little bit, but at the same time they see all the energy I put in my work and I think they are proud. And when I recently resigned as a teacher, my youngest daughter asked me: "But mom, you're not going to give up medicine, are you?" Also, I just do what my dad did, he used to interrupt any meeting if we called him. Even if he was in a meeting with lawyers or a group of bankers, he always had time for us.
When you started working in the winery, was it difficult to be the daughter of?
My dad always listened to me and that helps, but it was not all that easy either. When you are the daughter of, your mates will inevitably judge you. And in that sense, being a doctor helped me to be more respected and maintain my self-confidence. I remember when I joined the winery, as I did not know much about wine, somebody I was working with told me to go and work in the marketing area, considering it was a less important issue. But then I found out there is a lot to learn on sales, that it is something you have to study and fortunately, as I always say, I was lucky enough to go to the Catena marketing business school.
Is it easy to be a woman in the wine industry?
Things are changing. Movements like "Me Too" were very important because they helped people talk about abuse in many industries and not only about sexual abuse. I think it is positive because it facilitates cultural change so that more women can reach leadership positions in companies, although they can take up somewhat absurd stances.
How do you see the Argentine wine industry?
Argentina is the paradise of wine. The Andean zone has everything: intense sunlight, high altitude and poor soils. And we also have the most diverse Malbec DNA in the world, only comparable to Pinot Noir in Burgundy, which are today´s most expensive wines in the world.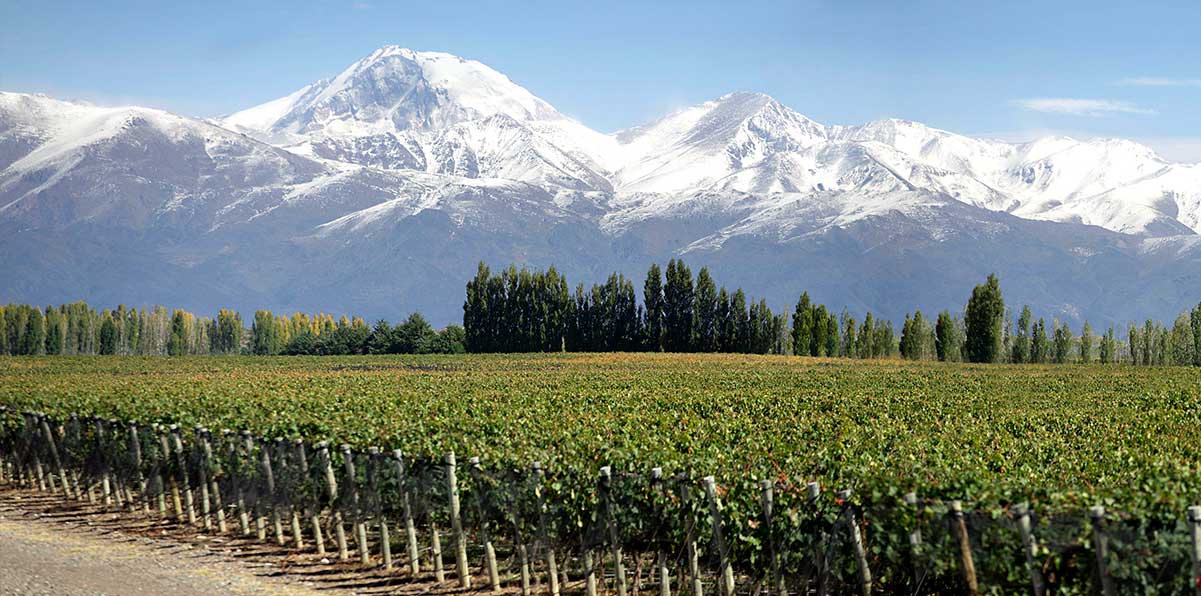 And how far are we from Burgundy?
I think that, as a country, we have an opportunity. With the Adrianna vineyard, in the Tupungato Alto area, we are focusing on producing what the wine industry calls a "Grand Vin" - unique, unforgettable wines with something special and recognizable, wines that when you taste them something happens to you and that's why you do not forget them, no matter how much time goes by.
Is it an achievable goal?
Some of Adrianna's harvests have already reached that level, I don't know whether all of them. But one of the problems we have today is that when you find the ideal place to plant a vineyard, as it happened to us with Adrianna, the next challenge is how to preserve the soil so that it does not get spoiled. We are now studying how to take care of that ecosystem and the Catena Institute of Wine is working hard on this matter.
What is the story of the Institute?
The Catena Institute was founded in 1995 with the mission of using science to preserve nature and culture in Argentina. It´s like with art. Science is there to preserve the Sistine Chapel. The idea is to do something highly scientific.
"Now, I´m not so much jealous but proud of our wines and I am convinced they already are among the best in the world".
What is it like to work with your dad?
My father is my mentor and my teacher, but at the same time he is a man who always listened to me. When I joined the winery, I had already graduated as a biologist and brought a strong scientific background form Harvard. Besides, I had a good command of English which was quite unusual in the winery. I remember that in the mid-90s, my father called me to go with him to the United States because we had been the first South American winery to be invited to participate in The New York Wine Experience. He told me "everybody here speaks bad English", and he wanted the face of the winery to be someone who spoke perfect English. Then you find out this is not very important. International fairs are crowded with wine experts from Italy, France, etc who may not speak English perfectly, but convey ideas and talk about their wines quite well.
And how was your debut as translator and ambassador for Catena?
In New York people passed by our stand and never stopped to tasted our wines. They lined up at the stands of the French and Italian wineries. That day I realized that my father needed me because we had a very important job ahead to place Argentine wine abroad. And then I started with the idea of the Catena Institute. The idea was that we had to make extraordinary wines, better than those of France or Italy; a tie would not work for us because of the prestige these countries enjoy. With that goal in mind, we started to study the soil, the climate and everything necessary to make the best wines. My theory is that the only way to make a good wine is that you like wine very much. You must dream about it and become jealous of anybody else doing a better job.
Are you still jealous of other wines?
Now, I´m not so much jealous but proud of our wines and I am convinced they already are among the best in the world. A short time ago I was at a Château Lafite tasting, the 1918 vintage, and the wine was great. I immediately said to myself: "What a pity! Why can't we have in Argentina a one hundred years old wine?
Is that unachievable?
No. I think we already did it. In the last ten years we have made wines that can be aged for that long. The problem is that I will not see it myself and hardly my children either. It will remain for my grandchildren or for my youngest nephew.
What's your view of Argentina?
I am convinced that Argentina has everything and sometimes having everything is a problem. When everything is so easy for you, it's harder to set goals. As regards wine, we are already working very well as a country and this is an example of things well done. Making a wine of excellence is a combination of agriculture and technology and it's not so different from the creation of the iPhone; it requires solid know-how. I am very optimistic by nature and I am sure that in a hundred years we will have great wines. And I am also optimistic about Argentina. Argentineans, in spite of all our problems, have a very high training level. Catena's staff have a level that has nothing to envy those that I met at Harvard or Stanford. I am convinced that in Argentina people work better than in the United States.