HIGH MOUNTAIN ESTATE VINEYARDS
For over four generations, the Catena family has grown vines in the foothills of the Andes Mountains in Mendoza, Argentina. Laura Catena, great-granddaughter of winery founder Nicola Catena, has created a classic Cabernet Sauvignon blend that fuses ripe, sweet tannins and spicy aromatics with elegant notes of black currant and cassis. Catena Cabernet Sauvignon is sourced from the family´s high-altitude vineyards in Lujan de Cuyo and Tupungato. From the marriage of these historic parcels emerges a wine of a unique character that has natural balance, concentration and a distinct varietal identity.
VINIFICATION
No cold maceration; the juice begins fermentation right away. Short 12-14 day post-fermentation maceration; finishes malolactic in barrel; 14 months in 80% French oak (30% new) and 20% new American oak.
VINTAGE
2008 was an outstanding vintage. The growing season began warmer than usual. The conditions were also exceptionally dry. This caused the physiological ripening of sugars to accelerate but the phenological ripening of polyphenols to slow down. In late January, some precipitation moved in which lowered temperatures and brought the physiological and phenological ripening processes back in sync. It was a vintage which started warm and ended cool.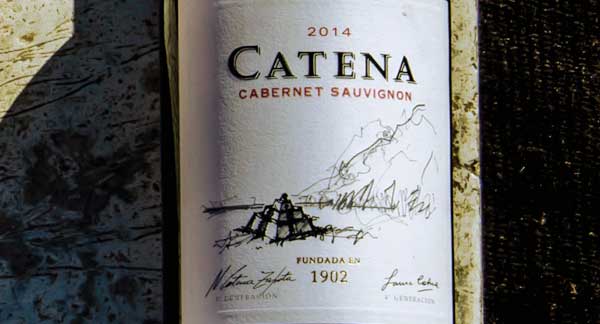 TASTING NOTES
The 2008 Catena Cabernet Sauvignon presents a dark purple color with tones of garnet. The nose offers intense aromas of ripe black currant fruit with layers of eastern spice, cedar, and a touch of fresh herbs. The mouthfeel is full and rich with layers of cassis and notes of roasted espresso and graphite. The finish is bright and fresh with finely grained tannins.