WINE DESCRIPTION
The inaugural 1997 vintage of this Cabernet Sauvignon and Malbec blend set a new standard of quality for wines from South America when it won a series of blind tastings against other prestigious cuvées from around the world.
VINEYARD
Harvest time varies depending on each lot's soil composition. Harvest time can vary by several weeks between one lot and another within the same vineyard.
La Pirámide Vineyard: 3,117 ft (950 m). Agrelo District, Luján de Cuyo Region, Mendoza, Argentina. Deep alluvial loam with 30% clay that decreases soil temperature by 35,6ºF (2ºC) in average. Cabernet Sauvignon.
Domingo Vineyard: 3,675 ft (1,120 m). Villa Bastías District, Tupungato Region, Uco Valley, Mendoza, Argentina. Surface is completely covered with gravel. Alluvial topsoil is loamy with limestone deposits at 11,8 inches (30cm). Cabernet Sauvignon.
Nicasia Vineyard: 3,593 ft (1,095 m). Altamira en La Consulta District, Uco Valley, Mendoza, Argentina. Very shallow loamy topsoil with surface gravel and gravelly (large stones) dry river bed subsoil - optimal drainage. Malbec.
Adrianna Vineyard: 4,757 ft (1,450 m). Gualtallary District, Tupungato Region, Uco Valley, Mendoza, Argentina. Alluvial, gravelly with limestone deposits in the topsoil. Malbec.
TECHNICAL INFORMATION
Winemaker: Alejandro Vigil
Varietal: 65% Cabernet Sauvignon, 35% Malbec
Alcohol: 14 %
Total Acidity: 5.8 grams/liter
pH: 3.72
Unfined and unfiltered.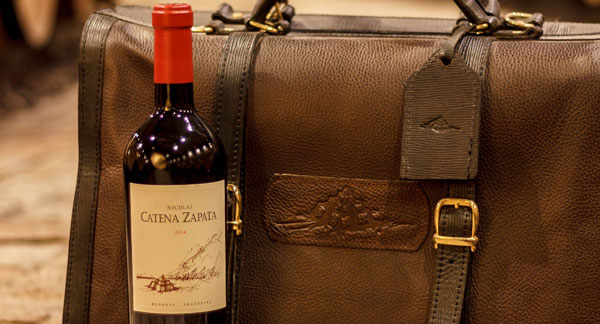 VINIFICATION
De-stemmed, whole berry fruit is hand-loaded into 225-500 liter new French oak foudres for a 100% barrel fermentation for a period of 18 days, allowing seamless oak integration. The fermentation temperature is kept low, extracting intense aromas, and the cap management is done by hand to ensure soft, gentle flavors and tannin extraction. Wild yeasts. Alcoholic and malolactic fermentation in barrel leaves considerable lees and sediment. The wine is aged in French oak barrels for 18 months. 210 separate row microvinifications from different lots and harvest times.
Read more about Nicolás Catena Zapata