TASTING NOTES
The grapes for Catena Alta Chardonnay come from a select block of Adrianna vineyard, Catena's premier Chardonnay vineyard. At 1,500m (5,000') elevation, the Adrianna vineyard experiences an even greater thermal amplitude than the La Pirámide vineyard, with very cool nights during ripining. The Catena Alta block has historically provided the most balanced and uniform yields. These carefully chosen vines undergo a detailed thinning process aimed at leaving only select, isolated clusters.
Picked in the cool, early morning hours, the grapes for Catena Alta Chardonnay are whole cluster pressed. The juice is all barrel fermented, and the wine spends a total of 14 months in 100% new François Fréres French oak. The result is a wine full of fresh fruit, with the added nuances of malolactic and oak flavors.
The 1997 Catena Alta Chardonnay has a bright, clean golden yellow color with green highlights. The nose is intense and complex, with grapefruit, apricot, and pear aromas laced with honey and toast. The wine is soft and round on the palate, with great harmony and equilibrium between the rich fruit and the light notes of vanilla and spice. Catena Alta Chardonnay will only be made in exceptional vintage years. No Catena Alta Chardonnay was made in 1998.
TECHNICAL INFORMATION
Varietal: 100% Chardonnay
Alcohol: 13.5%
Total Acidity: 5.5 grams/liter
pH: 3.53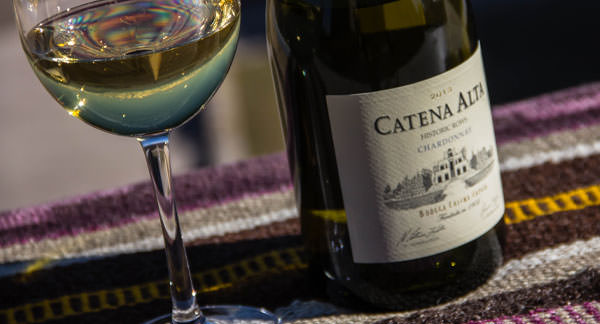 WINE DESCRIPTION
100% Chardonnay sourced from the sandy, lime soil of Lot 4 in the Domingo vineyard. The 1997 growing season returned to almost perfectly normal conditions in the Domingo vineyard, with average temperatures of 18.5° C and thermal amplitudes averaging 13.5° C throughout February and March. The grapes matured slowly and gradually, developing fresh pear and apple fruit flavors with delicate aromas of citrus blossom and lemon rind. The cool nights allowed for wonderful acid retention which lends a crisp, clean finish. This vintage can be enjoyed now and will continue to improve over the next 4 to 5 years.