The 1996-1997 season, while benefiting from Mendoza's ideal winegrowing climate, presented similar challenges to the 95/96 season.
The winter of 1996 was rather mild, with no extreme cold spells and only light snowfall. This lack of snow caused a scarcity of snowmelt, resulting in drought problems for those vineyards which depend solely on river waters for irrigation. Once again the effects of such shortages were minimized in the Catena vineyards due to the connection of the irrigation system to an underground aquifer which ensures a secure supply of pure mountain spring water.
Spring began with warm and dry weather, allowing the vines to enjoy uniform budding, with a high quality and quantity of clusters. While the plants were budding, isolated hail storms caused a thinning of clusters and a subsequent fall in 1997 production in some vineyards. The use of antihail nets in our vineyards served to minimize the damage to the budding vines. Flowering then took place towards the end of Spring, in a dry and hot climate, providing an excellent set of berries per cluster.
Mendoza enjoyed a fairly long and hot summer, offering the grapes the opportunity to ripen fully. In the second week of March, however, passing thunderstorms forced some producers to advance the harvest of many white varietals. The cropping and leaf removal techniques used in the Catena vineyards, minimized the effects of these inopportune storms. These techniques allow for minimum foliage cover around each cluster and thereby help the bunches to dry quickly.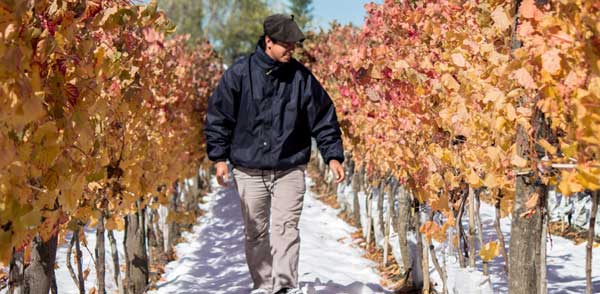 The rest of the harvest season, throughout the last weeks of March, offered unbeatable climatic conditions. The days were sunny and mild, the nights cool and dry, allowing the grapes to complete their maturation cycle. The last grapes to be harvested, notably Malbec and Cabernet Sauvignon, showed an excellent ripeness of tannins and an exceptional balance between sugar and acidity.
In conclusion, while the 96/97 growing season presented several challenges to the vineyard management team of Catena, the combination of advanced vineyard techniques and the natural characteristics of the Mendoza climate resulted in an excellent harvest of highly concentrated fruit, promising to make the 1997 vintage one to remember.