HARVEST REPORT - 2011
The soul of the viñatero (vigneron) is tested every year in our high mountain desert vineyard region of Mendoza, and the 2010-11 season was no different. After a small but very good quality harvest in 2010 (there was low set related to cold spring temperatures and Zonda winds) we were all hoping for a plentiful and uneventful 2011. As you may know, the viñatero quickly forgets the ravages of hail, frost and El Niño rains, every year hoping for a plentiful and healthy crop. The 2010 winter was quite dry and cold – not a good skiing season at Las Leñas! – but we somehow managed to get by through a combination of mountain stream water and underground aquifer wells. And our hearts rested easy, knowing that the probability of hail was lower in this dry climate – in fact, this was one of the lowest hail years that we have ever seen.
However, on the dreadful day of November 9th, a fierce frost hit Mendoza, cold air travelling fast along the low valleys of Lujan de Cuyo and the Uco Valley. The lack of humidity made things even worse: frost-cans were lit all night and prayers recited by all. We could not believe our luck the next day to see that our La Piramide vineyard in Agrelo (Agrelo and nearby Ugarteche were the worse affected) had been mostly spared. Our Angelica Sur Vineyard, a newer vineyard in El Cepillo, in the Southernmost part of the Uco Valley, was not as lucky – out of 150 Hectares we only harvested 30.
In February, the water situation became critical because the vines were in full photosynthesis mode and harvest was approaching. Towards the end of February, the rains arrived with noisy thunderstorms. The mountains became so white from the snow that it looked like winter. The initial elation at the arrival of water turned into fear towards beginning of March. The harvest of Chardonnay and Pinot Noir was coming about 2 weeks later than usual so we had almost no juice in the winery. But just when we started seeing some pockets of botrytis in the whites, the weather calmed down, the rain virtually stopped and we saw 2 more months of cooler-than-usual temperatures with a perfect mix of scattered clouds and sunny skies. The later ripening reds, such as Malbec and Cabernet Sauvignon were harvested 2-3 weeks later than usual in perfect condition with good concentration and perhaps due to the cooler climate, heightened aromas. Natural acidity was optimal, even in some of the lower altitude areas.
2011 will be a year of perfectly balanced wines with a rich expression of individual vineyard terroir and site.
Prepared by Dr. Laura Catena, Chief Winemaker Alejandro Vigil and Viticulturalist Luis Reginato
NOVEMBER 9th: THE FROST
The spring of 2010 offered good weather conditions with normal temperatures until the early morning hours of November 9th. On that day, a severe frost affected some regions of Mendoza. In this case, radiation frost occurred, causing soil temperatures to drop far below 0ºC. Lower areas are affected the most by this type of frost, since cold air radiating from the earth`s surface into the atmosphere tends to flow more easily into lower areas.
The eastern region of Mendoza was mildly affected, only on the perimeter and in the lowest areas. Luján de Cuyo was severely affected, but damage was isolated to specific sites. Agrelo and Ugarteche were severely affected, with a total loss of production for some vineyards. In the Uco Valley frost was isolated to the El Cepillo district in Eugenio Bustos which suffered severe damage.
The frost was like a "sharp-shooting assassin" either decimating a vineyard or sparing it completely. In the many areas that were spared we had perfect budbreak and yields about 20% higher than last year (a very low yielding vintage), so close to average yields for the region.
A VERY COOL GROWING SEASON
Thermal statistics identify the 2010-2011growing season as the coolest in the last 15 years.
These colder temperatures delayed the maturation cycle. In fact, ripeness was achieved 15 days later than last year, which was already a late year. So overall, there was a 3 week delay in harvest compared to the usual harvest dates.
Number of days with a maximum temperature above 33º C:
January 2010: 15 days / January 2011: only 6 days
February 2010: 2.25 days / January 2011: only 6 days
These were the averages for all Catena Zapata vineyard regions.
Highest maximum temperature (averages for all vineyards):
January 2010: 37º C / January 2011: 35.4ºC
February 2010: 35.1ºC / January 2011: 32.5º C
March 2010: 32.5ºC / March 2011: 30.7º C
Lowest minimum temperature (averages for all vineyards):
January 2010: 9.8º C / January 2011: 10.2º C
February 2010: 9.8º C / January 2011: 9.8º C
March 2010: 8.5º C / March 2011: 2.5º C
DRY, VERY DRY
The winter of 2010 was very dry, with little snowfall from the Andes. The scarcity of snowmelt resulted in little available water for irrigation. Some vineyards had drought problems during the Spring and the beginning of Summer. In February rains further delayed the harvest, especially the harvest of white grapes. However, March and April saw practically no rain. Scarce precipitation meant little hail. In fact, there were only two hailstorms, which were not very strong and only affected a small area.
THE HARVEST AT CATENA ZAPATA
70% of our "Angélica Sur" vineyard, located in Eugenio Bustos, was affected by frost. Fortunately, the other vineyards suffered no damage.The "Domingo" vineyard, located in Villa Bastías, Tupungato, suffered little hail damage in the Spring and was able to perform well after that. Overall, our vineyards had an optimal performance, providing fresh, intense aromatics, rich flavors and exceptional concentration of polyphenols.
RIPENING OF THE GRAPES
Cold temperatures delayed the maturation cycle. In fact, all grape varieties matured more slowly than usual. However, full ripening was achieved, including late-cycle grape varieties in cool climate, high mountain districts such as Gualtallary and Eugenio Bustos. Mild temperatures during the day ensured an efficient photosynthetic process.
And these lower night-time temperatures limited respiration and enhanced retention of acids, particularly malic acid. In conclusion, the grapes have ripened with a higher level of acidity than usual, providing fresh, balanced wines. Sugar concentration was also obtained later than usual, but without causing any serious problems. Aromatics are notably high and the concentration of polyphenols is excellent due to phtosynthetic efficiency.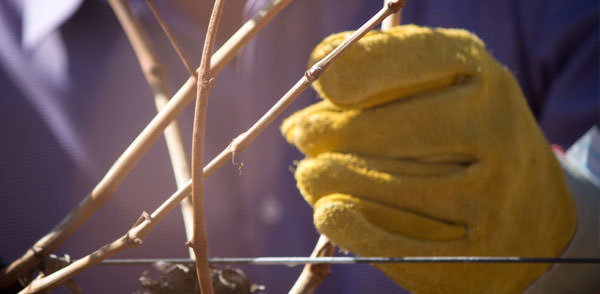 2011 HARVEST IN THE CATENA ZAPATA VINEYARDS
ADRIANNA VINEYARD: Malbec, Chardonnay, Cabernet Sauvignon, Cabernet Franc and Pinot Noir - Gualtallary, Tupungato, Uco Valley, Mendoza, 4757 ft elevation
Despite the higher yields in other regions, the scarcity of water in this location led to naturally low yields this year. During the growing season, temperatures were below average. In fact there was a snowfall on December 10th (this would be like getting snow in Bordeaux in June). Leaf removal was applied in Malbec lots to better expose the berries and minimize herbal flavors. In this way, we were able to obtain grapes with exceptional aromatics, optimal polyphenolic ripeness and medium levels of sugar. Cool temperatures and low relative humidity allowed us to harvest the grapes later this season, maximizing the development of floral and spicy aromas. The Chardonnay was harvested almost one month later than usual, resulting in ripe fruit and honey flavors. The scarce availability of water highlighted the heterogeneous properties of this vineyard, due to its different soil compositions, allowing us to obtain grapes with different spectrums of aromas and polyphenolic profiles. The grapes were harvested separately, only at full ripeness."
ANGÉLICA VINEYARD: Malbec and Cabernet Sauvignon- Lunlunta, Maipú, Mendoza, 3018 ft elevation
"I was a bit worried about the lack of water in January and beginning of February, but after the late February rains stopped, the mountain water was repleted and we had no more drought issues. The maturation cycle was delayed due to the colder temperatures observed mainly in March. The Malbec of Angelica is of an exceptional quality this year, with intense aromatics of violets and spices, which are typical of this vineyard."
DOMINGO VINEYARD: Chardonnay and Cabernet Sauvignon - Villa Bastías, Tupungato, Uco Valley, Mendoza, 3675 ft elevation
"A hailstorm hit this vineyard in November, killing some of the flowers before they opened up. Hail reduced the yields by 50% in those lots that were not covered with anti-hail nets. Due to the cooler temperatures that characterized this growing season, we were able to harvest Chardonnay two weeks later than usual. This resulted in a slower and more complete maturation process, thereby maintaining excellent levels of acidity and allowing for the development of abundant aromatics. The Cabernet Sauvignon yields were lower than usual, and thanks to scarce rainfall during the growing season, the canopy allowed for more exposed grapes, resulting in lower levels of pyrazines, good levels of sugar and acids, and sweet-tasting tannins".
NICASIA VINEYARD: Malbec and Cabernet Sauvignon - Altamira, Uco Valley, Mendoza, 3593 ft elevation
"The quality of the Nicasia grapes this year is exceptional: high concentration of ripe tannins, good structure and remarkable elegance". Belen Iacono, Viticultural Engineer.
ANGÉLICA SUR VINEYARD: Malbec and Cabernet Sauvignon - El Cepillo, Uco Valley, Mendoza, 3567 ft elevation
"In this vineyard, we could only harvest 9.7 acres of Cabernet Franc, 14.6 acres of Cabernet Sauvignon and 12.2 acres of Malbec. Yields were relatively low. The rest was lost with the November 9th frost."
LA PIRÁMIDE VINEYARD: Cabernet Sauvignon, Merlot, Malbec, Cabernet Franc, Petit Verdot y Chardonnay - Agrelo, Luján de Cuyo, Mendoza, 3117 ft elevation
This is the vineyard that surrounds the Catena Zapata Pyramid. This year we have been quite lucky regarding the frost of November 9th. In spite of the fact that La Pirámide vineyard is located in one of the districts that was gravely affected by frost, only a small area was affected in the lowest sector of the vineyard.
In general terms, the growing season at La Pirámide was very good, without excessive rain during February, which provided for healthy conditions in the grapes. The clay soils accentuated the cool climate during the months of March and April this year and I was very pleased by the natural acidity and freshness of the grapes." Diana Marczuk, Viticultural Engineer.