The winter of 2000 began with a great deal of early snowfall. A large accumulation of snow throughout the winter ensured an ample supply of irrigation water for the 2000-2001 growing season. Spring arrived early, with some areas seeing budbreak as early as September. Mild temperatures and the lack of any late frosts lead to an abundant and very uniform budbreak. Moderate temperatures and low relative humidity throughout the rest of Spring resulted in an excellent flowering and set, with full, uniform clusters.
The Summer months were hot and very dry in the high altitude wine country of Mendoza, producing a high level of water stress which kept berry size small. The end of January saw a reduction in temperature and some isolated rain, relieving the stress which the vines were experiencing. The careful and correct management of irrigation, together with proper canopy management in the Catena Zapata vineyards, left the vines in excellent conditions to accumulate and develop the important elements of aromas and flavor.
In February, in preparation for the harvest, leaf thinning and green harvesting activities were performed, allowing the isolated clusters to increase their concentration. This also helped to increase aeration of the clusters. Chardonnay, Sauvignon Blanc and Pinot Noir grapes were harvested in excellent conditions, with optimum maturity in the first half of March.
During the third week of March rain fell over some areas of Mendoza. Harvest was delayed in the Catena Zapata vineyards in order to allow the grapes to recover their flavor concentration. When the harvest began again, rain in some parts of Mendoza complicated the panorama. In areas which experienced heavy rainfall, or whose soils did not allow for good drainage, some rot and dilution were evident. However, in those areas which experienced little precipitation or whose soil and slope allowed for easy drainage, maturation continued smoothly, although a little later than in previous years.
As a result, in general, there are three vineyard scenarios which can be identified for the 2001 harvest. Firstly are those which received very little precipitation and which have very permeable soils. The vineyards in these areas dried very quickly and their fruit achieved optimum ripeness with an extended hang time which resulted in very concentrated grapes. Outstanding wines will be produced from these vineyards.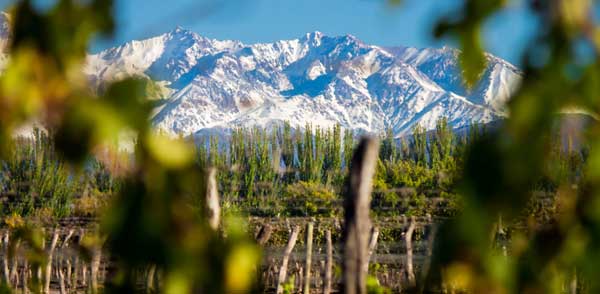 The second group are those areas which received some rain, but whose soils were very permeable and whose canopy management was correct, allowing vineyards in these areas to dry fairly well resulting in the harvest of good fruit but of lesser concentration.
The third group are those areas which received heavy rains and whose soils were not very permeable, hindering drainage. If these vineyards were over-cropped with fruit or did not have the proper canopy management, some cases of rot and dilution were evident.
Because of the diverse locations of the Catena Zapata vineyards, we were fortunate enough to have a great deal of fruit coming from well-drained soils where precipitation was scattered, such as Tupungato and Altamira in La Consulta. The resulting fruit underwent extended hang time and ripe, fully developed red grapes were harvested. In addition, all the fruit underwent a rigorous selection process of hand sorting in the vineyard and at the winery.
In conclusion, one can say that the 2001 harvest was fairly difficult. There was excellent quality in white wines and varying quality in reds, from exceptional to mediocre, according to specific characters of the vineyard and producer. For Catena Zapata in particular, so far the quality appears to be comparable, if not better than that of the 2000 harvest.