WINE DESCRIPTION
95% Cabernet Sauvignon, 5% Malbec. The Cabernet Sauvignon fruit was sourced from the lime, clay soil of Lot 3 in the La Pirámide vineyard. In 1997, these vines enjoyed exceptionally high thermal amplitude, averaging 14.0° C, during the important ripening month of March. The very cool nights allowed the grapes to finish their ripening very slowly, resulting in intense aromatics and excellent complexity. The Malbec fruit was sourced from the sandy, clay soil of Lot 18 in the Angélica vineyard. Here the vines saw slightly warmer than usual sunny days in March, with the average temperature at 21.1° C, lending heightened concentration and a rich, yet soft texture. This vintage can be enjoyed now and will continue to improve over the next 7 to 9 years.
VINEYARD
La Pirámide Vineyard 3,117 ft (950 m). Agrelo District, Luján de Cuyo Region, Mendoza, Argentina. Deep alluvial loam with 30% clay that decreases soil temperature by 35,6ºF (2ºC) in average. Cabernet Sauvignon.
Domingo Vineyard: 3,675 ft (1,120 m). Villa Bastías District, Tupungato Region, Uco Valley, Mendoza, Argentina. Surface is completely covered with gravel. Alluvial topsoil is loamy with limestone deposits at 11,8 inches (30cm). Cabernet Sauvignon.
Adrianna Vineyard: 4,757 ft (1,450 m). Gualtallary District, Tupungato Region, Uco Valley, Mendoza, Argentina. Alluvial, gravelly with limestone deposits in the topsoil. Malbec.
Nicasia Vineyard: 3,593 ft (1,095 m). Altamira in La Consulta District, Uco Valley, Mendoza, Argentina. Very shallow loamy topsoil with surface gravel and gravelly (large stones) dry river bed subsoil - optimal drainage. Malbec.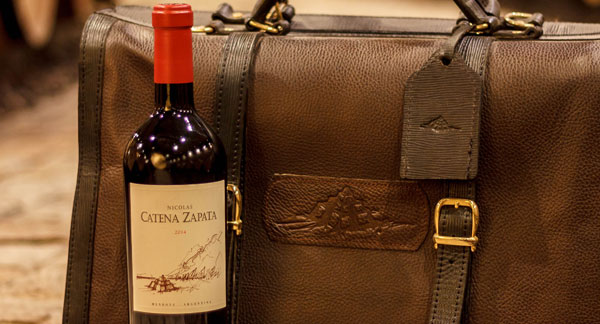 TASTING NOTES
The 1997 Nicolás Catena Zapata has a deep, dark reddish purple color. The nose is complete with intense aromas of ripe cassis, plum and black currant fruit seamlessly interlaced with notes of toast and tobacco. The mouthfeel is soft and full with concentrated flavors of ripe red fruits in excellent harmony with hints of cedar and toast from aging in small oak barrels. The wine has a long, persistent finish with ripe, sweet tannins.
TECHNICAL INFORMATION
Varietal: 95% Cabernet Sauvignon, 5% Malbec
Alcohol: 14.4%
Total Acidity: 5.77 grams/liter
pH: 3.45