TASTING NOTES
The 1999 growing season in the high altitude wine country of Mendoza offered ideal conditions for the cultivation of truly exceptional Cabernet Sauvignon and Malbec fruit. A dry, temperate Spring resulted in an excellent initiation of the vegetative cycle and an even, balanced fruit set. The warm, sunny days and cool mountain nights throughout the summer months allowed the grapes to experience a slow, gradual maturation process, helping to ensure a more complete ripeness level. Mild temperatures and dry weather conditions in the harvest months of March and April allowed the grapes to enjoy a long, extended hang time in order to achieve maximum maturity.
The Cabernet Sauvignon fruit is sourced from Lot 3 of the La Piramide vineyard. The 20 year old vines in this specially selected lot offer an exceptional level of homogeneity and balance, with all elements of fruit distribution, yield and canopy in perfect, natural harmony. A careful, vine by vine winter pruning of the double Guyot system leaves between 4 and 5 buds per cane, ensuring an even fruit distribution. A select, precise leaf pulling process removes interior canopy foliage surrounding the clusters, allowing for more homogeneous aeration and solar insulation. Careful irrigation management during the important maturation months of March and April allow the grapes to achieve maximum concentration, structure and balance.
The Malbec fruit is sourced from Lot 3 of the Adrianna vineyard. The vines in this specially selected lot undergo a thorough suckering process to remove any unwanted, secondary shoots in order to ensure proper canopy balance. The lot also experiences a demanding green harvesting leaving isolated clusters in order to maximize concentration. A wide, 14.4º C, thermal amplitude in the important ripening month of April allows the Malbec grapes to develop deep dark violet color, intense intense aromatics and soft sweet tannins.
The 1999 Nicolás Catena Zapata has a deep reddish color with marked tones of violet and purple. The nose displays intense cassis and black raspberry fruit meshed with notes of vanilla and spice. Powerful and full-bodied, this wine shows a remarkable elegance and harmony. The long, lingering finish is dominated by sweet, velvety tannins.
TECHNICAL INFORMATION
Varietal: 82% Cabernet Sauvignon, 18% Malbec
Alcohol: 13.8 %
Total Acidity: 5.77 grams/liter
pH: 3.45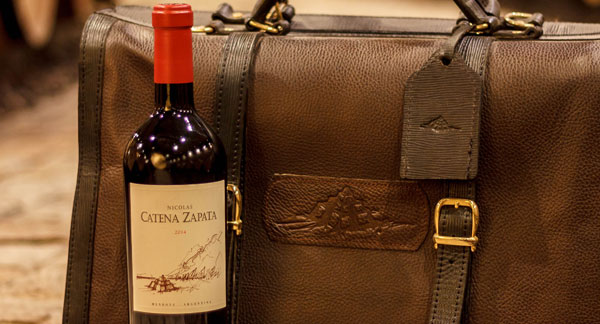 WINE DESCRIPTION
82% Cabernet Sauvignon, 18% Malbec. The Cabernet Sauvignon fruit was sourced from the lime, clay soils of Lot 3 in the La Piramide Vineyard (planted in 1983). Even cooler March temperatures than 1997 during the day, with averages of 17.6º C, and very cold nights, with lows averaging 11.5º C, allowed for the development of complex aromatics, a rich middle palate and elegant, finely grained tannins. The Malbec fruit was sourced from the sandy soils of Lot 3 in the Adrianna Vineyard (planted in 1992). This unique high altitude microclimate at almost 5,000 feet elevation, had warmer than normal pre-harvest temperatures for April, with monthly averages at 18.4°C. The result was rich, fleshy Malbec fruit with a supple texture and velvety finish.
VINEYARD
La Pirámide Vineyard 3,117 ft (950 m). Agrelo District, Luján de Cuyo Region, Mendoza, Argentina. Deep alluvial loam with 30% clay that decreases soil temperature by 35,6ºF (2ºC) in average. Cabernet Sauvignon.
Domingo Vineyard: 3,675 ft (1,120 m). Villa Bastías District, Tupungato Region, Uco Valley, Mendoza, Argentina. Surface is completely covered with gravel. Alluvial topsoil is loamy with limestone deposits at 11,8 inches (30cm). Cabernet Sauvignon.
Adrianna Vineyard: 4,757 ft (1,450 m). Gualtallary District, Tupungato Region, Uco Valley, Mendoza, Argentina. Alluvial, gravelly with limestone deposits in the topsoil. Malbec.
Nicasia Vineyard: 3,593 ft (1,095 m). Altamira in La Consulta District, Uco Valley, Mendoza, Argentina. Very shallow loamy topsoil with surface gravel and gravelly (large stones) dry river bed subsoil - optimal drainage. Malbec.